Granite Polishing San Diego, CA and Total Granite Restoration Services
(Yes, we can polish and seal your granite counter top, floor, shower and fireplace too!)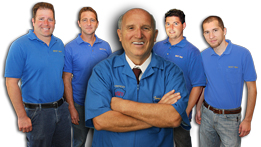 Your search for a professional granite polishing San Diego service is over!
Beyond competent office staff
Polite, experienced technicians
Top tier granite products & sealers
Scroll down to learn:
How we clean, seal and polish granite
What our clients say in their reviews
More about our company
More about our guarantee
Quick Filmstrip
 of our Granite Polishing San Diego Service:
---
Our granite arsenal features high grade professional supplies. With it we restore luster, protection, and even conquer the dreaded "granite smear" combo of oil and cleaning products.
Flash polishing is the answer for granite surfaces that have a dull appearance. Flash polishing gives granite crystals back their sparkle and can help with mineral water and other spots.
Penetrating sealers give the the best degree of protection from oil and water stains. We do not use "covering" sealers as they leave stone and grout ripe for damage. Solvent-based is best. Say no to water and silicone-based for no peeling and yellowing!
Your granite's dense pores
will be injected with the highest level of protection by our V.O.C. compliant quality solvent-based sealer. Unlike other sealers, ours won't change the color or appearance of the stone surface.
Our finishing touch application on counters adds the "final coat" of shine and beauty enhancement as well as cleans off all residue that the polishing process created.  It will leave your stone gorgeous!
You will enjoy a clean, highly reflective granite surface that feels smooth as ice after a Tony's Best Way granite polishing service! The last kicker is that our treatment is long-lasting!
Our Granite Polishing Process
Is it Time for Granite Restoration San Diego?
Granite is most often used for kitchen countertops, vanity counters, showers and flooring. Granite is a hardy, heat resistant stone that is great at hiding soil. However, after a period of about one year, granite will lose its luster and its sealer will wear down. It will need to be deep cleaned and sealed yearly to restore its appearance, its smooth texture when you touch it, and to help protect it from future damage. For damaged granite countertops, we can also repair cracks, chips, and holes with our optional granite repair San Diego service.
Customized Granite Service Procedures
When servicing granite, we first inspect it closely to determine its makeup. Different types of granite require different procedures if you want to do the best job to restore the stone to its former glory. (Not all granite polishing San Diego companies will do this, so make sure the one you pick does!)
What is Removed with Granite Restoration?
Our customized-for-your-granite cleaning agents remove:
mineral buildup (normally from water use and around sinks),
beverage spills,
cleaning product residues,
improper sealers or coatings
whatever else is contributing to stone's dullness
What are the Benefits of Polishing Granite?
Our Health+Clean granite restoration cleaning process will leave granite clean, fresh and ready to be polished. At that point, we flash polish your granite to make the crystals inside "pop", leaving beautiful, glistening granite that also feels smooth to the touch.
How is Our Granite Sealer Different than Others?
After cleaning and polishing, we will apply a granite specific solvent based sealer to the stone surface. Note that we do not use a universal stone sealer. Most sealers out there are not solvent based and thus, do not penetrate into stone but only form a layer on top of stone. The difference will take a toll on the look, the feel and the life of your stone. The right sealer is of the utmost importance especially with granite because it is a very dense stone.
What Can I do to Keep my Granite in Top Shape?
After we service your granite we will give you detailed instructions on how to maintain your stone:
what products to use
what products not to use
how often your stone needs to be serviced
Granite Countertop Repair
Does your granite counter have chips, cracks or holes? Our granite repair service fixes these blemishes by filling them in with additional granite and a granite dye to match your countertop's coloring. We then polish the entire surface in order to blend the new granite into your existing granite.
What is the Next Step I Should Take?
We would love to answer any questions you may have about your particular granite restoration service needs. We can also come out and take a look at your granite and give you an exact price for our granite polishing and sealing service. At that point we can proceed with the restoration or leave at no cost to you. Please contact us today to set up your appointment at your preferred time!
What's Next?
Contact Us to Set Up an Appointment!
(or to ask our courteous service staff your questions) Reach Us Via Email Form or Call Us Today!
(858) 459-3201
(760) 942-1904
(619) 325-0800
We Service All of San Diego County
Click to Contact Via Form
Learn More
About our Local San Diego Family Business:
---
What Do Others Say About Us?
The locals are sharing their stone cleaning San Diego experiences!  Read their reviews here! by San Diegians like this one by Cory Piculell, "James cleaned and sealed my marble floor, granite counter top and tile back splash. He did an excellent job on everything and was polite and helpful. … I would recommend Tony's Best Way to anyone! I will certainly use them again."
We'll Help You Do Your Homework
Small local family business
48 years of service in San Diego
High client-to-client referral rate
High returning client job rate
Read our quality Yelp reviews
Read our BBB Reliability Report
Our Solid as Granite Guarantee
Our Professional Granite Cleaning San Diego Guarantee:
We will give you a top-quality job. Your granite will be cleaned and polished right and sealed right.  In addition to our top-quality cleaning, high performing solutions, and penetrating pro sealers, we have long-time technicians who are both experienced and polite. Our 4+ decades in the most discerning neighborhoods means we are in the business of making happy clients. Along with the above, we also have excellent office staff who deliver world-class customer service, "to value YOUR time", as our office manager Gloria Toth states. Really, you can't go wrong choosing our 48-year-old San Diego family business that offers nine high-grade professional cleaning restoration services. If you aren't satisfied, we aren't satisfied.
What Our Local San Diego, CA Clients Say:
Be sure and check out out review sites as well!
We Clean and Service All Floors and Furnishings
Does your couch need a good cleaning too?
What's Next?
Contact Us to Set Up an Appointment!
(or to ask our courteous service staff your questions) Reach Us Via Email Form or Call Us Today!
(858) 459-3201
(760) 942-1904
(619) 325-0800
We Service All of San Diego County
Click to Contact Via Form