45 Years of Experienced Upholstery Cleaning in Sunny San Diego!
All fabrics served including silk, cotton, linen, velvet, wool, embroidery, antique and delicate fabrics, ultra suede and leather.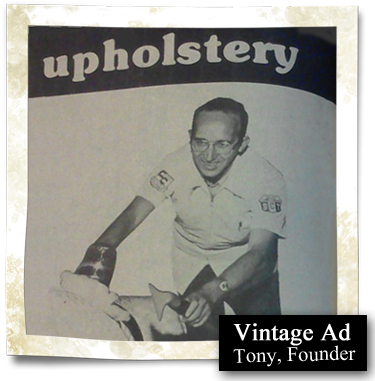 A San Diego Upholstery Cleaning Original
Mysterious spots, "gray" arms and cushions, dog & cat odors and stains? You need
experienced
upholstery cleaners. We expertly clean all types.
We use an upholstery cleaning method you've probably never seen before
but you'll also be amazed to see its unusually impressive results!

1. We treat upholstery cleaning seriously. We hand-treat spots and darkened soil concentrations first. Next our machines apply a low-moisture foam – covering the surface. In contrast to spraying liquid cleansers (and possibly soaking upholstery inserts), we cover upholstery with this lightweight cleansing foam via a soft-bristle rotating brush. The light substance covers but doesn't soak. Our foam's formula is powerful and effective, but the double-impact comes from its molecular structure. Using lightweight  foam makes sense.
2. But why is the foam released via rotating brushes? The foam must penetrate the fabric's fibers. We could use harsh chemicals to artificially agitate the soil out of upholstery fibers, but nah… we skip the heavily toxic stuff in favor of old-fashioned physical agitation. We "work in" our foam into the surface with gentle brushes. Hard bristle brushes could be harmful, so we use very soft bristles. The foam thoroughly covers the surface, and the soft bristles push the foam into the fabric's holes in order to reach embedded soil.
3. Foam allows for easy and effective soil extraction. Upon suction, previously embedded and bonded soil easily lifts out with the foam. That's another unique characteristic of using foam as a cleansing carrier. Because our cleansing foam's 10% moisture and 90% air cell content does not soak into fabrics as liquid does, its lightweight mass releases from fabric fibers much easier than straight liquid. This means we see unusually high soil removal rates due to utilizing unconventional cleansing foam over liquid.
4. Our process won't leave residue. Another benefit of foam over a liquid-based cleaning style is that liquid products must be rinsed and extracted very well in order to remove their cleaning properties. If not, cleaning products and soiled water residue remain in upholstery. The soil settles back into furniture but, even worse, many detergents "dry sticky". This stickiness attracts soil and when the two meet, they bond – vacuuming won't remove bonded gummy soil. Our foam's formula and composition eliminates the possibility of dirt-attracting residue.
5. Harsh chemicals are not needed.
Up to 90%+ of San Diego upholstery cleaning companies rely on harsh chemicals to encourage fibers to release their soiled contents by induced agitation. Our method relies on fabric safe physical agitation. You'll be happy to hear we also include a non-toxic sanitizing agent in our foam's formula. Beware of green cleaners who use weak-performing natural formulas. We believe in really cleaning – even though we don't use heavy amounts of harsh chemicals. For the very sensitive, ask for our 100% non-toxic formulas!

6. Delicate upholstery fabric? Yes, we can clean Wool and/or Dry-Clean Only (S code) fabrics.
We can clean any fabric including silk, linen, cotton, damask, rayon, wool, denim, and velvet/velour. For upholstered furniture that is too fragile for machine cleaning we use an excellent 100% hand cleaning and hand finishing procedure. Likewise, if your furniture cannot tolerate moisture, we will use a dry cleaning procedure.If your furniture easily develops water stains, we will expertly use a combination of blending and air dyers to get the best possible results. We are pleased to offer this specialty service.
7. We also offer an optional upholstery fabric protection treatment.
The ideal time to have us apply our furniture protectant is immediately after purchase or after our professional cleaning. Our protectant product goes on as a clear layer that will help repel future soiling that will help protect your furniture's fresh and clean appearance. Its excellent repellent quality also means spills and accidents are also resisted, – allowing you the limited yet welcome opportunity to wipe up many spills before they soak in and stain.
What's Next?
Contact Us to Set Up an Appointment!
(or to ask our courteous service staff your questions)
Reach Us Via Email Form or Call Us Today!
(858) 459-3201
(760) 942-1904
(619) 325-0800
We Service All of San Diego County
Click here to Contact us Via Form
A sample of what our clients are saying about our San Diego upholstery cleaning company:
Be sure to check out out all the top review sites as well!
Tony's Best Way sent two of their men to clean my furniture, and the work was so good that my favorite reading chair and footstool and my living room sofa now look like brand new.They worked very hard and were very pleasant. Norman L.
I couldn't be more pleased with your work. The stains on the Martha Washington chair are completely gone, and the sofa and side chair look great!! It will be a pleasure to recommend your services to my friends. Martha S.
At one point, I felt my white sofa…was hopeless…As an interior decorator in San Diego, I've never worked with anyone more professional, in every sense… and I've never seen anyone perform "magic" as you did on my sofa. Karen H.
How to Find a Great San Diego Upholstery Cleaner:
A Little Research Pays Off! Consider the Following:
Local Family Business
People appreciate that our father and son business is not a homogenized franchise. We can tailor every aspect of your cleaning to your needs and do what it takes to get the job done right. Trust our family's 45 year old tradition of Upholstery Cleaning San Diego excellence.
What's Next?
Contact Us to Set Up an Appointment!
(or to ask our courteous service staff your questions)
Reach Us Via Email Form or Call Us Today!
(858) 459-3201
(760) 942-1904
(619) 325-0800
We Service All of San Diego County
Click here to Contact us Via Form