Hardwood Floor Refinishing Alternative San Diego
All types served including Oak, Maple, Cherry, Teak, Pine, White, Exotic woods, Hardwood, Laminate and Veneer Wood.
Our buffing and resealing process (learn more here) removes grime and restores sheen with a high or gloss finish. Effective and fast drying!
Local Family Business
Look at what a local San Diego   hardwood floor refinishing alternative client had to say,  "The gentlemen from Tony's were courteous and efficient. They did my wood floors and cabinets. They looked like new when they were finished. Very happy with the service."
Professional Hardwood Floor Restoration Alternative Services
1.) Cleaning 2.) Buffing 3.) Refinishing 4.) Stripping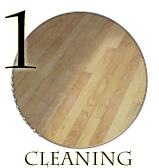 Professional and Powerful Cleaning
When sweeping and mopping stops leaving your wood flooring beautifully clean, your hardwood needs professional cleaning equipment and know-how. The
picture
above is worth a thousand words. The ground-in soil is evident and even changed the color of the wood. Dull, gray tones in wood floors can indicate years of soil accumulation. Our cleaning method utilizes both dedicated wood specific equipment (beware poor quality clip-on attachments to carpet cleaning wands) and our own proprietary cleaning solution for an attractive, clean wood floor.
Buffing Erases Light Surface Marks
Hardwood buffing is similar to auto buffing in that a special buff pad and liquid solution are used to "buff out" unsightly marks from newly-cleaned hardwood flooring. Our hardwood technicians use mildly abrasive pads on their buffing machines to thoroughly and evenly remove the previous sealer. Light scratches, chair scuffs and other marks made to the previous wood seal are buffed out with this technique. The only alternative to this cleaning and buffing is sanding and refinishing which are considerably more costly and involved.
Resealing Helps Protects & Beautifies
A professional sealing application makes wood floors look gorgeous again in addition to making them more durable. Our sealer is not the damaging, streaky and sticky stuff that non-professionals use. More than just restoring that beautiful wood luster, a quality sealer is the best thing you can do for your floors. With a proper and new application, wood floors will stay shiny and protected. Our Hardwood Floor Refinishing Alternative San Diego process is also dust-free, odor-free,  solvent-free, environmentally-friendly and it's safe for kids and pets!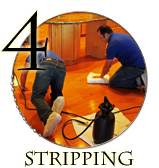 Stripping Removes Old Coatings
Wood floors only need stripping before resealing if improper coatings were used.  Kim H. writes,
"Our hardwood floors had looked horrible for a couple years after using a cleaning product that left a hazy film. We must've worked on those floors a hundred times trying to get that film off and barely put a dent in it. We thought the floors were ruined or would have to be sanded and refinished but saw mention of hardwood floor cleaning on Tony's website while looking into grout cleaning. Now our floors look brand new again, the film is gone and they are shiny beautiful."
What's Next?
Contact Us to Set Up an Appointment
Or Ask Our Courteous Professionals Your Questions! Reach Us Via Email Form or Call Us Today!
(858) 459-3201
(760) 942-1904
(619) 325-0800
We Service All of San Diego County
Click to Contact Via Form
7 Tips to Keep Your Newly Buffed and Resealed Wood Floor Looking Great
Keep it clean. Many people don't realize that regular house soil is abrasive and is the cause of many wood floor scratches. That being so, it is imperative to remove house soil regularly.  Use a broom or a non-beater bar head vacuum once a day. (Use only brush or "felt" heads so they don't cause damage.) Vacuum wheels should also be inspected for soil or parts that may scratch your new finish.
Keep it dry.
When water spills on your wood floor, wipe immediately with soft terry towels. When you clean, skip the water and liquids. No wet-mopping; no damp mopping. Water wears down and softens wood and harms the integrity of wood finishes. Dry mop with a dry Swiffer after your daily sweeping or vacuuming. And please, no machines of any kind.
Be picky.
Avoid the streaks and whitish surface film we see regularly from poor quality cleaners. We usually recommend this excellent wood floor care product:
Bona® Hardwood Floor Cleaner Gallon Pre-Mixed
Avoid wax/oil products that impede the ability of wooden floors to accept buffing. Such products encourage foot and furniture abrasion scratches when house soil "hardens" into that type of finish.
Play keep away.
Keep away from almost every other type of cleaning product, especially citrus cleaners! Beware liquid cleaners, oily soap products, and cleaners that contain silicone, ammonia, or orange/lemon or tung oil. You will likely need to strip these damaging products off in the future if they are applied to your wood flooring San Diego!
Groom pets regularly.
 Make sure your wood-floor friendly dogs and cats have short, clipped nails to help prevent claw scratches on your new wood sealing application. In addition to the recommended nail pedicures, the regular paw washing will also result in less chance of scratches. Why? Grit from outside is carried onto your hardwood floors on your pet's paws. The pressure of his/her weight on the grit is like the cut of little knives!
Update your House Rules! Wiping shoes on floor mats (strategically placed at every entrance and room entry) are a must. Better yet, make a new "kick off your heels" rule! (Seriously, no heels on wood, folks!) Some place fun sayings at their doors such as, "Leave your worries & your shoes at the door" or "We will think you sweet if you remove the shoes from off your feet". Pinterest has more "no shoes, please"ideas right here!
Place tennis balls on all chair legs.
Okay, okay, you don't have to do this IF you go out and buy those little self-stick felt pieces and plaster them on every furniture leg (or foot). Here is such a product: 
Waxman 4728595N 3/4 inch Self-Stick Round Heavy Duty Felt Pads, 20 Pieces, Brown
 Remember: sliding furniture and chairs on wood floors often result in scuffs and scratches that aren't quite considered desirable patina!  
What Our Local San Diego, CA Clients Say:
Be sure and check out out review sites as well!
"Explained the work that they were doing in detail. Made me feel comfortable that they knew what they were doing. Very professional." Andy L.
Tony's cleaned and refinished my travertine floors last year and they were like new. This month they cleaned my hardwood floors and took my oriental rugs away to be cleaned. Everything looks brand new! I am extremely pleased.
Mary F.
"I thought finding a family-run business that cares about the service they perform, was long gone and that no one stood behind their work anymore. I was so appreciative of the good service I received." Robin L.
What's Next?
Contact Us to Set Up an Appointment
Or Ask Our Courteous Professionals Your Questions! Reach Us Via Email Form or Call Us Today!
(858) 459-3201
(760) 942-1904
(619) 325-0800
We Service All of San Diego County
Click to Contact Via Form