Persian Rug Cleaners San Diego - Serving SD Since 1971
From the most delicate antique Persian rug to extremely large Persian area rugs; we clean them all and well.

Expert spot and extensive soil extraction.
Three odor solutions including pet urine odor.
We do not soak rugs with water = No water damage or color loss!
Established family business with a local reputation for quality.
Courteous customer service and friendly, efficient technicians
We stand behind every job. We're BBB accredited, bonded & insured.
Keep reading to learn more about our Persian rug cleaning method!
About Persian Rugs: How We Clean Them, and Why Our Cleaning is Superior
-Standout Persian Area Rugs Cleaning Companies San Diego-
Persian Rugs in a Nutshell
We understand Persian rugs and are happy to enlighten.
Your handmade Persian rug is a work of art, a beautiful furnishing that warms and enhances your home. Additionally, antique Persian rugs can actually increase in value the longer you use them.
Genuine hand-knotted Persian rugs are each painstakingly made row by row usually in the country of Iran. A simple test for handmade authenticity? Turn your rug over. Hand-woven rugs do not have a backing.
Cleaning Rugs in a Nutshell
Your rugs are valuable and we will treat them that way.
In keeping with the careful way in which the Persian rugs were made, professional Persian Rug Cleaners San Diego must also be extremely careful during their cleaning procedures.
Failure to use non-damaging cleaning methods, failure to use correctly balanced solutions, and failure to recognize signs certain rugs are especially susceptible to damage, can wreak havoc on your beautiful Persian rug.
Our Cleaning Method
We have been caring for Persian rugs in San Diego for over 40 years. We offer an unique low-moisture (yet, extremely effective) cleaning method called Health+Clean that works wonders on even the most delicate and antique Persian rugs!
With our quality cleaning methods, along with our quality and personable technicians, you will absolutely be comfortable entrusting your Persian area rugs to our local, family business that has over 40 years of experience amongst all other Persian Rug Cleaners San Diego.
Read on to learn more about our rug cleaning method and about our fine company.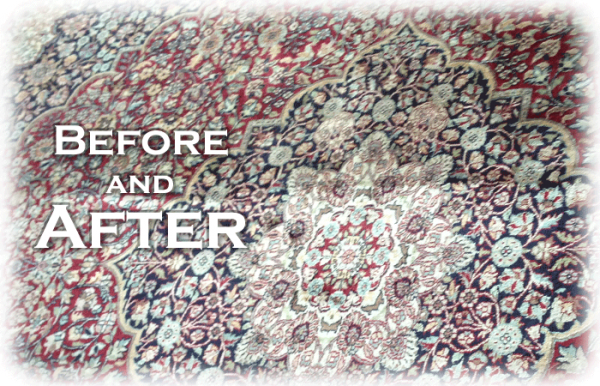 Our Health+Clean Persian Rug Cleaning System
Our Persian rug cleaning method, Health+Clean, is one-of-a-kind among professional San Diego Persian Rug Cleaners. For one, we can clean almost all Persian rugs at your site, or at our location. This capability is almost unheard of in our industry, and it's all due to our extraordinary method, Health+Clean.
Another Health+Clean feature allows us to use far, far less water when cleaning. Typical methods involve complete rug rinses or soaks. Even "hand wash rug cleaning" procedures necessitate spraying rugs with water. Why isn't water + rugs a good thing? Keep reading!
The Less Moisture Persian Rug Cleaners Use, the Better:
Water exerts pressure on structural fibers and twists them back and forth, which can lead to fiber splinters and color dulling. In short, it helps shorten rug lifespans.
Non-distilled water contains minerals and minerals are abrasive. When water is left to dry in rugs, minute mineral "gravel" is dispersed among the rug. Just stepping on the rug in future can mini-cut fibers and create soil hangouts.
Traditional water washing by Persian Area Rugs Cleaning Companies San Diego unfortunately can cause accelerated fading and wear, and it is noteworthy that it's simply not necessary for effective soil removal.
Soil, Spot and Odor Treatments can be Sophisticated:
Our damage risk-free and low-moisture Health+Clean Persian Rug Cleaning System works better at removing more soil, spots and odors than other San Diego Persian Rug Cleaners. How so?
Consider:
We customize our PH-balanced cleaning solutions to your rug's needs.
We include a safe, toxin-free sanitizer that battles dust mites and allergens
We apply our many years of know-how to persistent spots, with a great success rate
We feature progressively more intensified odor treatments for odors including heavy pet urine
Hand Dyed or Very Fragile Antique Persian Rug Cleaning
We always perform color-fastness tests and inspect rugs before proceeding with our Health+Clean system. If we cannot use our full treatment, we may still be able to safely proceed with another method of cleaning.
For instance, we also offer a 100% dry cleaning method among other alternate cleaning treatments. Please don't hesitate to ask about what we can do for your fragile rug.
Additional Rug Services
Rug fringe cleaning is always included.
We offer optional rug protection treatments.
We offer optional rug wrapping, moth & fire proofing.
We offer high quality rug cleaning at your location or ours. You choose!
Your location ADVANTAGES:
Very convenient on-location cleaning service
Unique low-moisture method doesn't harm floors
No need to live days or weeks without your rugs
No second appointments or pickup/delivery fees
No risk of moving or transportation damage
No need to move heavy furniture off rugs, if desired.
Our Location ADVANTAGES:
Rug washing plant uses the same excellent method
Allows for extra care for heavy pet urine soiling
Allows for extra care for tricky or large rug fringes
Allows for dry rug inspection after treatment
Optional rug wrapping for storage service treatments
Can pick up at one location and deliver to another
What's Next?
Contact Us to Set Up an Appointment!
(or to ask our courteous service staff your questions)
Reach Us Via Email Form or Call Us Today!
(858) 459-3201
(760) 942-1904
(619) 325-0800
We Service All of San Diego County
Click here to Contact us Via Form
A sample of what our clients are saying about our San Diego Carpet Rug Cleaning Service
P.S. Look up our reviews on all the top review sites!
The rugs were in need of cleaning. We had used a home cleaning machine about a year ago but it did not do a very satisfactory job. Tony's two employees moved furniture as needed, vacuumed, spot cleaned, cleaned, and protected the rugs. They returned the furniture and put pieces of plastic under the furniture legs. The rugs now look much better. The rugs no longer show any signs of dirt. … We are very pleased with the work that was performed.
Hugh M.
This experience was a joy! The person answering the phone was efficient and professional. I was able to get an appointment the same day. The people cleaning the rug came exactly on time. They were pleasant, efficient, professional and answered all my questions. The rug looks great. The whole experience was the most painless household chore I've ever had to do. Thank you, Tony's Best Way!
Linda K.
Tony's Best Way Cleaning is simply wonderful. …They were professional, quick and cleaned up after themselves nicely. They did NOT come in and soak my furniture or rugs with lots of solution or water. They used very little water and a unique cleaning machine to get the maximum, effective clean. They were very knowledgeable on how to clean my wool rugs… My rugs look brand new… I would highly recommend Tony's Best Way Cleaning for fast, friendly, professional, knowledgeable cleaning.
Amy H.
How to Find Professional Area Rug Cleaners San Diego:
A Little Research Pays Off! Consider the Following:
Local Family Business
People appreciate that our father and son business is not a homogenized franchise. We can tailor every aspect of your cleaning to your needs and do what it takes to get the job done right. Trust our family's 49 year old tradition of Persian Rug Cleaning San Diego excellence.
What's Next?
Contact Us to Set Up an Appointment!
(or to ask our courteous service staff your questions)
Reach Us Via Email Form or Call Us Today!
(858) 459-3201
(760) 942-1904
(619) 325-0800
We Service All of San Diego County
Click here to Contact us Via Form